STORY BY

Joe Keatinge

ART BY

Nick Barber

COLORS BY

Simon Gough

LETTERS BY

Ariana Maher

PUBLISHER

Image Comics
RINGSIDE is a comic book series that brings back all your professional wrestling nostalgia and reads like the 2011 film Drive. The story introduces you to our main character, retired pro wrestler Dan Knossos, famously known as "The Minotaur" - Who after an extended absence gets a distressing call from someone in his past that he cared deeply for and has to return to his past friends that he left long ago.
The story weaves a complex world of characters from the world of wrestling. Retired pros, aging pros still trying to keep at the game, newcomers trying to learn the ropes and industry suits controlling the lives of everyone in the business. You don't have to be a wrestling fan to enjoy Ringside, with this cast you might not expect that the story exists completely outside the ring. Flowing back and forth between Danny and his old mates, flashbacks and glimpses into a dark world that Danny himself is having to delve in to in order to help someone he loves. Things are about to get real ugly for Danny.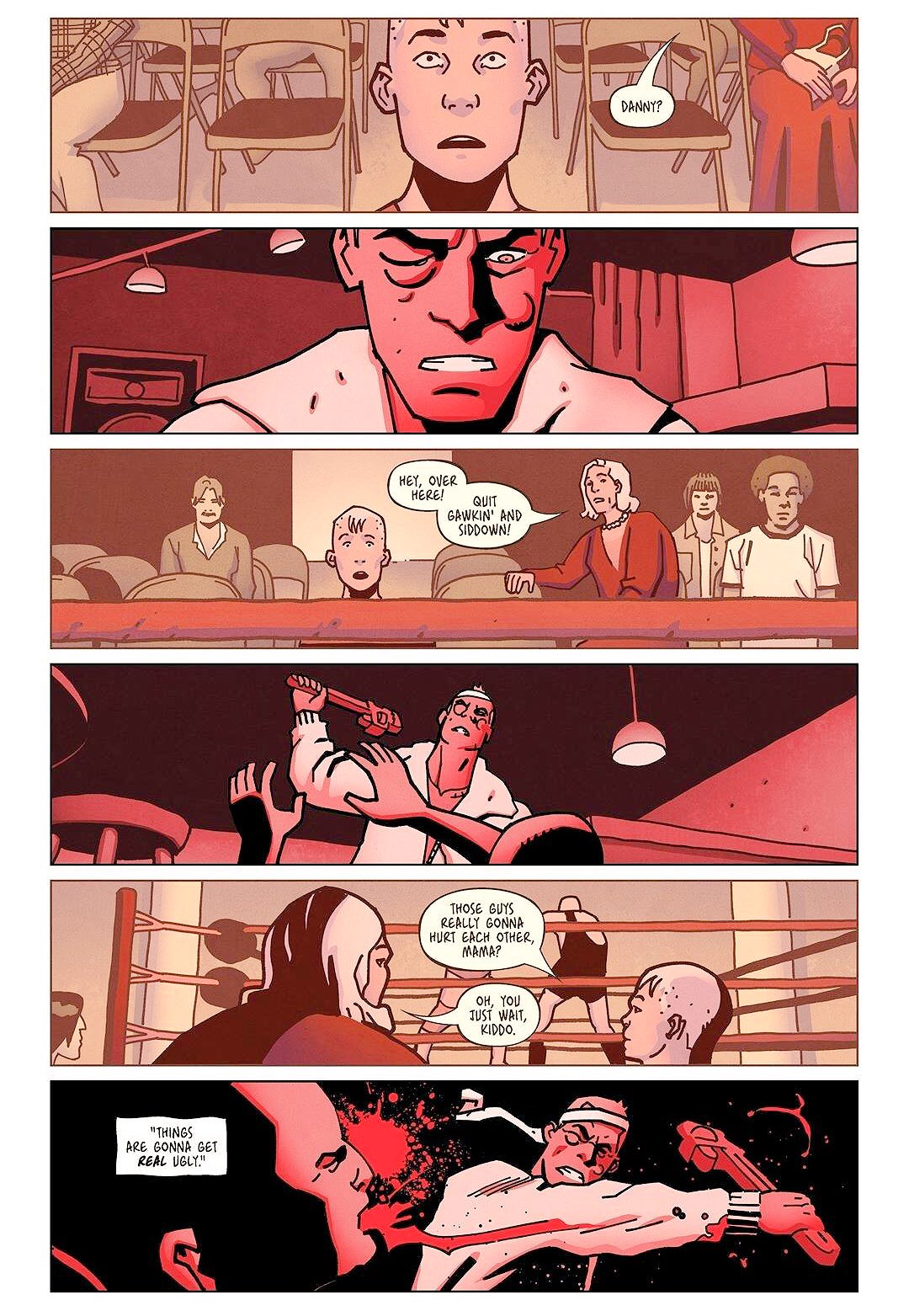 The art is in this volume is wonderful, a rough, minimalist approach that fits the story perfectly. The colors are wonderfully chosen to contrast and set a very intentional tone. Every character is unique and full of personality. The layout itself is very thoughtfully done. In this page I've included we flash back and forth every panel between past and present, connecting events in a beautiful way, to see things from a new perspective.
A thrilling journey from page to page, sure to leave you wanting more, I highly recommend checking out Ringside.
You can get pre-order Ringside volume 1 by clicking here: